Starting a web agency can be an exciting and lucrative venture for individuals with a passion for technology and creativity. In today's digital age, businesses rely heavily on their online presence, making web agencies in high demand. 
If you're looking to embark on this entrepreneurial journey, this comprehensive guide will provide you with the knowledge and insights to successfully start and run your own web agency. From understanding the industry landscape to building a strong client base, we'll cover all the essential aspects to ensure your agency thrives.
1. Understanding the Web Agency Industry
To start a web agency, it's crucial to have a solid understanding of the industry landscape.  Learn about the most recent developments in online design and development, digital marketing tactics, and upcoming technology.
Attend pertinent conferences and workshops, stay current on industry news, and network with other experts in the field. Having a solid knowledge base will help you remain on top of developments and provide your clients with top-notch services.
2. Defining Your Agency's Niche
In order to position oneself in the market and target the appropriate clientele, it is essential to determine your agency's niche. Think about your areas of expertise, your hobbies, and the particular services you wish to provide. 
Are you enthusiastic in creating e-commerce websites? Or are your portfolio designs for creative workers always visually stunning? Establish your specialty and concentrate all of your efforts on becoming an authority there.
3. Creating a Business Plan
Any successful venture needs to have a solid business plan. the mission, vision, and objectives of your organization. To find your target market and rivals, conduct market research. 
Create a price plan, financial forecasts, and marketing strategies. Your decision-making process will be aided by a thorough business strategy, which will also entice possible partners or investors.
4. Building a Strong Online Presence
Your online presence as a web agency reflects your skill set. Create a polished website that highlights your portfolio, services, and customer endorsements. 
Make sure your website is search engine optimized for optimum exposure. Utilize social media channels to interact with your target market and position your company as a leader in the field. Publish top-notch material that benefits your readers and showcases your knowledge.
5. Assembling a Talented Team
You'll need a talented and committed team to give your clients great results. Employ people with a range of skills, such as web designers, developers, copywriters, and digital marketers. 
Work with independent contractors or, if necessary, hire professionals to do specific tasks. To increase output and innovation, make sure there are open lines of communication and encourage teamwork.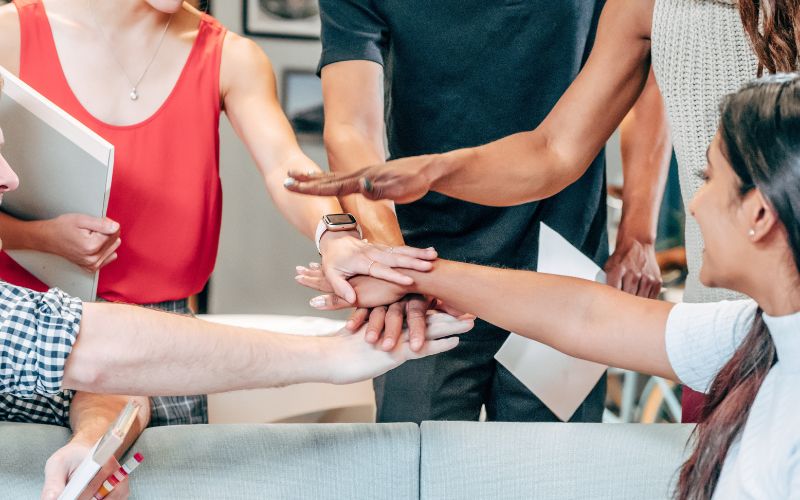 6. Acquiring Clients and Building Relationships
Building a strong client base is essential for the success of your web agency. Utilize various marketing strategies to attract potential clients. Network with professionals in related industries and attend business events. 
Offer free consultations or audits to demonstrate your expertise and build trust. Provide exceptional customer service to exceed client expectations and generate positive word-of-mouth referrals.
7. Delivering High-Quality Services
The caliber of the services you offer will determine how well your business is known. When working on any project, aim for excellence. Make sure your team is up to date on the newest techniques and tools in the market. 
To guarantee your clients' happiness, keep the lines of communication open throughout the process. Deliver work on schedule and on budget, going above and beyond to satisfy clients.
8. Scaling Your Web Agency
As your agency grows, consider strategies for scaling your operations. Streamline your workflows and optimize your internal processes to increase efficiency. Explore partnerships or collaborations with other agencies or professionals to expand your service offerings. 
Consider investing in employee training and development to nurture talent within your team while continuously evaluate and upgrade your technology infrastructure to support the growing demands of your clients. By scaling your web agency effectively, you can take on larger projects and increase your revenue potential.
9. Building a Strong Reputation
In the highly competitive field of web agencies, having a solid reputation is crucial for achieving success. It is important to prioritize delivering outstanding outcomes and offering exceptional customer service. Encourage happy clients to share their positive experiences and recommendations on your website and various online platforms.
Stay actively involved with your audience through social media and ensure timely responses to inquiries or feedback. By cultivating a strong reputation, you will be able to attract a larger client base and position yourself as a reputable industry leader.
10. Staying Updated with Industry Trends
The field of web design and development is constantly evolving. Stay updated with the latest industry trends and technological advancements. Attend industry conferences, webinars, and workshops to expand your knowledge and network with industry experts. Join professional organizations and forums to connect with like-minded professionals and share insights. By staying at the forefront of industry developments, you'll be better equipped to meet the evolving needs of your clients.
11. Investing in an all-in-one Agency Tool
One of the benefits of starting a web agency is the use of done-for-you tools that you can use to build websites, professional websites for your clients, generate content and images, and more. One of the most popular web agency tools is MotoAI. 
MotoAi is a comprehensive bundle deal that offers a suite of powerful AI-driven tools designed to assist individuals in creating and managing various aspects of their web agency, including websites, graphics, videos, content, and more. This bundle is being presented as a limited-time offer with a range of valuable features and bonuses.
Key Features of the MotoAi Bundle Deal:
MotoAi Frontend:

Instantly create high-converting websites in any niche using AI.
Build professional websites 10 times faster with AI technology.
Commercial license included, allowing you to bank 100% profits.
AI-generated content and images for your websites.
Effortlessly customize sites with drag-and-drop editing, no technical skills required.
Ability to create unlimited sites without additional costs.

MotoAi Business:

Create fully functional and ultra-fast loading online marketplaces with ease.
Choose from over 100+ templates in 17 popular niches.
Commercial license included, enabling you to sell unlimited single and multi-vendor sites and retain all profits.
Additional features like a WP Backup Plugin, Auto-Generated Compliance Pages, and more.
Beginner-friendly, no technical skills needed.

MotoAi Leads & Traffic Suite:

AI Text Generator for creating engaging social media posts.
Pre-designed images with your logo and details tailored to your website niche.
Pre-designed festival posts with customization options.
FormBuilder plugin for creating various types of forms.
Task Manager for leads management and CRM purposes.

MotoAi PLR Plugins Suite:

A collection of WordPress plugins for enhancing website functionality.
Plugins for tasks like auto-captioning YouTube videos, social media sharing, image and ad management, and more.
Enhance user experience and site performance.

MotoAi Plannero:

Access to Plannero.io, a platform for creating branded videos.
Templates for international events and various video types.
Video editing capabilities with animation effects.
Social calendar creation and a library of searchable media assets.

MotoAi Whitelabel:

Rebrand and sell MotoAi as your own product.
Manage users with a personalized whitelabel dashboard.
Use a custom domain for branding.
Charge clients for MotoAi services under your brand.
Customize branding and remove MotoAi logo.
The MotoAi bundle is being offered at a significantly discounted one-time price for a limited time only. It includes a range of valuable features, bonuses, and tools aimed at helping users establish and manage a successful web agency. The offer also comes with a 14-day money-back guarantee, ensuring a risk-free opportunity for users to explore the capabilities of MotoAi.
Conclusion
Establishing a web agency necessitates a blend of technical proficiency, business savvy, and a commitment to delivering outstanding services. This comprehensive guide will equip you with the necessary skills to navigate the ever-changing landscape of the web agency industry, embracing its challenges and capitalizing on its opportunities. 
It is crucial to remain current with the latest trends, cultivate a robust online presence, and prioritize client contentment. With passion, determination, and an unwavering dedication to ongoing learning, you can transform your aspirations into a successful web agency.
FAQs (Frequently Asked Questions)
How much experience do I need to start a web agency?
While experience is valuable, it's not the sole determining factor. Having a solid understanding of web design and development, along with business acumen, can compensate for limited experience. Focus on building a strong portfolio and showcasing your skills to potential clients.
How can I attract clients to my web agency?
To attract clients, leverage digital marketing strategies such as search engine optimization (SEO), social media marketing, and content marketing. Network with professionals in related industries, attend industry events, and offer valuable insights through blog posts and articles to establish yourself as an industry authority.
Should I specialize in a specific industry or offer a wide range of services?
Specializing in a specific industry can help you position yourself as an expert and attract clients within that niche. However, offering a wide range of services can cater to a broader client base. Consider your strengths, interests, and market demand when deciding your agency's focus.

How do I price my services as a web agency?
Pricing your services can be challenging. Consider factors such as your expertise, the complexity of the project, market rates, and the value you provide to clients. Conduct market research and competitive analysis to determine a fair and competitive pricing structure.
How do I ensure client satisfaction?
Communication is key to ensuring client satisfaction. Regularly communicate with your clients, provide progress updates, and seek feedback at every stage of the project. Be responsive to their needs and expectations, and go the extra mile to deliver exceptional results.
Is it necessary to have a physical office for a web agency?
Having a physical office is not necessary, especially with the rise of remote work and virtual collaboration tools. Many successful web agencies operate remotely, providing services to clients globally. However, having a professional business address can enhance credibility and trust with clients.